Cách vẽ tranh gia đình em  - Draw your Family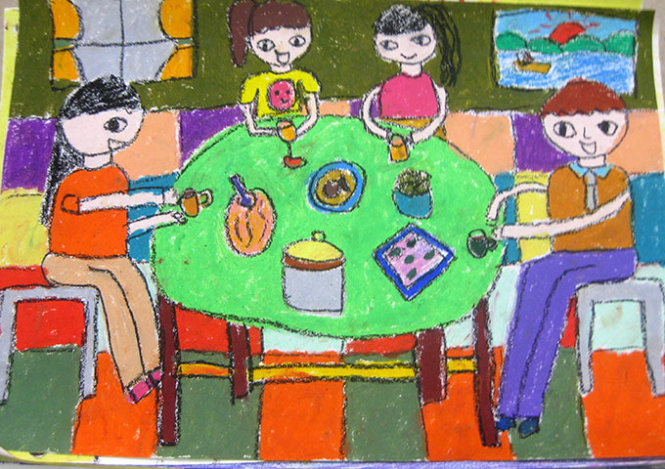 Cách vẽ tranh đề tài "Bộ đội" cho học sinh tiểu học


Yêu cầu bài vẽ : Nét vẽ tuy còn non nớt, nhưng những bài vẽ phải đúng về chủ đề "Gia đình em" . Trong bài vẽ phải thể hiện nhiều tình cảm hồn nhiên trong sáng của các em  về mái ấm thân yêu của các em. 
Các em có thể vẽ cảnh gia đình của em đi chơi xuân,  Cả gia đình đi chơi công viên, Gia đình sum họp sau bữa cơm. Hay cảnh gia đình em ở bãi biển Đồ Sơn… Khi vẽ màu các em vẽ với màu sắc tươi sáng, phong cách thú vị, ngộ nghĩnh, đúng với lứa tuổi của các em. Hình ảnh bố em, mẹ em hay cả ông bà phải  thân thiện, giản dị và gần gũi. Trong bài vẽ các em phải mô tả tình cảm yêu quý gia đình, kính trọng bố  mẹ, kính yêu ông bà phải  thắm thiết, như cảnh chải tóc cho mẹ, bố dạy em học, vui chơi với các bố mẹ ở công viên nước…Thông qua đề tài này , giúp các em thấy nhiều tình cảm yêu quý gia đình, yêu quý người đã sinh thành ra em.
How to Draw a picture of your  Family
Activity your child learns about families, draws a picture of her family and then tells about someone in the picture.

a.. What You'll Need
 -  Construction paper, or use a clean piece of paper, or some other medium.
-  Crayons
b. Discuss with your child what a family
Discuss with your child what a family is. Talk about who makes up your family. Ask your child about other families she knows, such as that of a close friend. Talk about how there are different kinds of families. For example, some have grandparents living with them and some don't. Some have pets and some don't. One way to see how we feel about family is to draw a picture of that view. In this exercise, that is what we will do.
c. Draw line
 Draw whatever you want to depict "family." It is up to you to decide what that term means and how you will represent whatever that is (e.g., someone may draw a house, while someone else may do a collage of their own family. Someone else might be more abstract and depict various emotional states).
Ask your child to draw a picture of her own family members. Make sure she includes a drawing of herself. When she is done, invite your child to tell you about someone in the picture. You may need to ask questions to get her started. This will help her develop language skills which are important for communication as well as for reading.
d. Add Color
Change your brush type by selecting the brush, and select the color box to change your color.
e.  Add Lighting and Shading
Add a layer on top and black out all of the areas where you want shade, then reduce the opacity to fade it into your drawing and soften your shadows. Use the same technique for lighting, but with a light brush.
f. Add Details
g.  Final Touches
2. Xem nhanh các slides của bài này: Preview all slides for this lecture Online
______________And more sections, Please download>>>>_____________
3. Author: cachve.com
4. Language: English - Vietnamese
5. Document Type: .Powerpoint - Page: 16 slides
6. Size:1.95MB
7. Link download - Thầy cô hãy nhấn vào links phía dưới để tải : click to one of under links. Easy download, Fastly download, Free download
>>>> Tải bài giảng này từ http://cachve.com
>>>Cách ve tranh gia dinh cua em
>>>Cách vẽ tranh gia dinh  cua em
>>> Danh sách các bài giảng môn Mĩ thuật lớp 4
Note: This Test is quite Free for everybody. It was collected by many sources from Internet . We are have no responsibility about this sharing.
-+++->